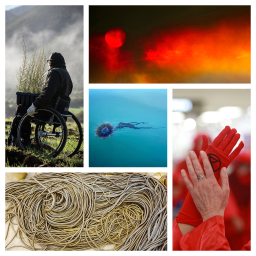 We invite you to view the video version of Earth Emotions, an exhibition of photography from Te Tauihu, the top of New Zealand's South Island. It launched on Earth Day April 22, 2022 online at theexhibit and features over 100 images by 47 local photographers. They share insights, emotions, actions, and future visions related to climate change, biodiversity, and the health of our soils, waters and forests. The curators invited submissions from people of all ages and levels of photographic ability.
A selection of prints from Earth Emotions has been exhibited at the Refinery ArtSpace in Nelson from 31 Oct – 19 Nov 2022.
Ann Wheatley was inspired to create the exhibition after reading Australian eco-philosopher Glenn Albrecht's book Earth Emotions. Co-curators Peter Kemp, a videographer; and Emma Jane Hughes, an internationally exhibited photographer and BAFTA-nominated film producer worked alongside Ann. "It's more than just a photography exhibition", says Emma, "It's an opportunity for people to express their perspectives about what can seem like an overwhelming problem, but is also a portal to a better way of life." Ann first learned about climate change as a university student in the 70's. She never imagined the world would spend another 50 years avoiding and delaying climate action. "We need a new narrative", she explains. "Photographers and other creatives have a role to play in shaping the narratives we live by, including those around climate change."
Earth Emotions has five galleries, each with its own theme. The evocative images tell many tales – some bleak, others beautiful. The callous indifference shown toward a dead bird on the roadside, painted over by a road-marking truck, the impending demise of a single tree, clinging to an eroding cliff face, and the hopeful vision of a perfect double rainbow– this is our world laid bare by the photographer's lens.
Earth Emotions is an initiative of the Nelson Tasman Climate Forum with support from Nelson City Council.