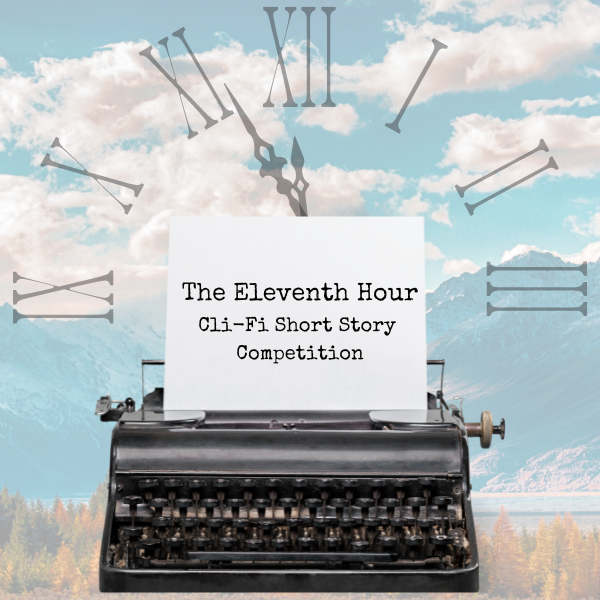 We are delighted to be able to present you the different entries for our very first Cli-Fi competiton The Eleventh Hour, which took place during our 2022 Climate Action Week.

Time is the essence by Susan Allen
Kauri Encounter by Barbara Cameron
The South Window by Jackie Cook
Trustpower by Ciaran Durand
Deep Dive by Martin Hucklesby
Plausible Deniability by Warren Nevill
The Remaking by Julie Nevill
The Oasis by Kate Show
Carpe Diem by Katie Shaw
All the STORIES can be found here.
JUDGES' REPORT (Justin Eade and Cliff Fell)
"The Nelson Tasman Climate Forum's inaugural Eleventh Hour cli-fi short story competition attracted a range of strong entries, suggesting the writing community has a deep interest in writing cli-fi as a way of exploring and commenting on the real and now commonly observed risks and dangers that climate change presents.
The entries took two general forms. Unsurprisingly, many offered a dark and bleak Black Mirror-like dystopian vision of the future. Gas-guzzler culture meets its come-uppance in Plausible Deniability while a post-deluge hunter-gatherer iwi is imagined in The Remaking by Julie Nevin. In contrast, a few stories took a more satirical or comic-ironic approach to the subject, with protagonists captured wrestling with the minutiae of electricity rationing – Trustpower by Ciaran Durand, or overcoming composting phobia – Time is of the Essence by Suzie Matthews) or other daily activities in the world of a climate change future.
The stories were, of course, read and judged blind, and as so often happens in any fiction competition, two rose like cream to the top, one from each of those dystopia and satirical categories. Deep Dive by Martin Hucklesby  is set in the year 2100 on a marine research trip/broadcast between the ferry ports of Palmerston North and Murchison. It's generally well-written, lol funny at times, and has great pop-culture and local geographical references. It was an obvious contender and we wrestled for a while over whether the implications of climate change were best served by such a comedic and satirical approach.
In the end, however, we realised that the quality of the writing should be the key defining criterion. Notwithstanding the sassy brilliance of Deep Dive, we had no doubt in selecting the south window by Jackie Cook as winner of The Eleventh Hour Cli-Fi short story prize. Assured in its language and the subtle pace of its revelations, it is seemingly set in a VR (virtual reality) space, a stream of consciousness narrative that is possibly voiced by an artificial intelligence, perhaps the last sentient bot on the planet. Along with its sense of history and literary/cultural references, we felt the poetic writing and deep quietly disturbing melancholy of its dystopia made it a worthy winner – one that would give readers insight into climate change and pause to reflect on its implications.
Justin Eade and Cliff Fell"