Freshwater – the Good, the Bad, the Future
August 14 @ 7:00 pm

-

9:00 pm

free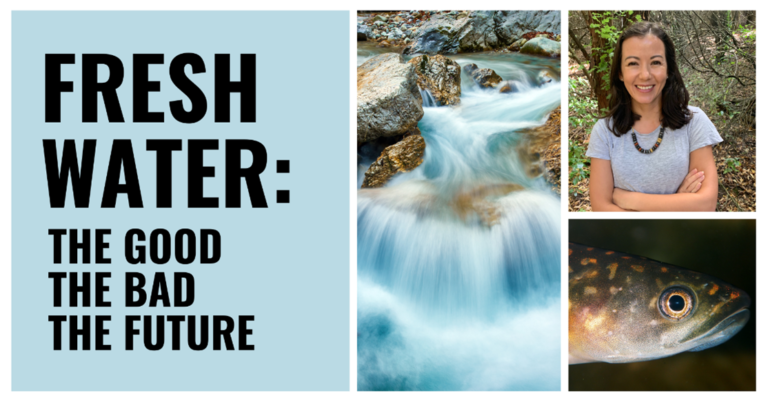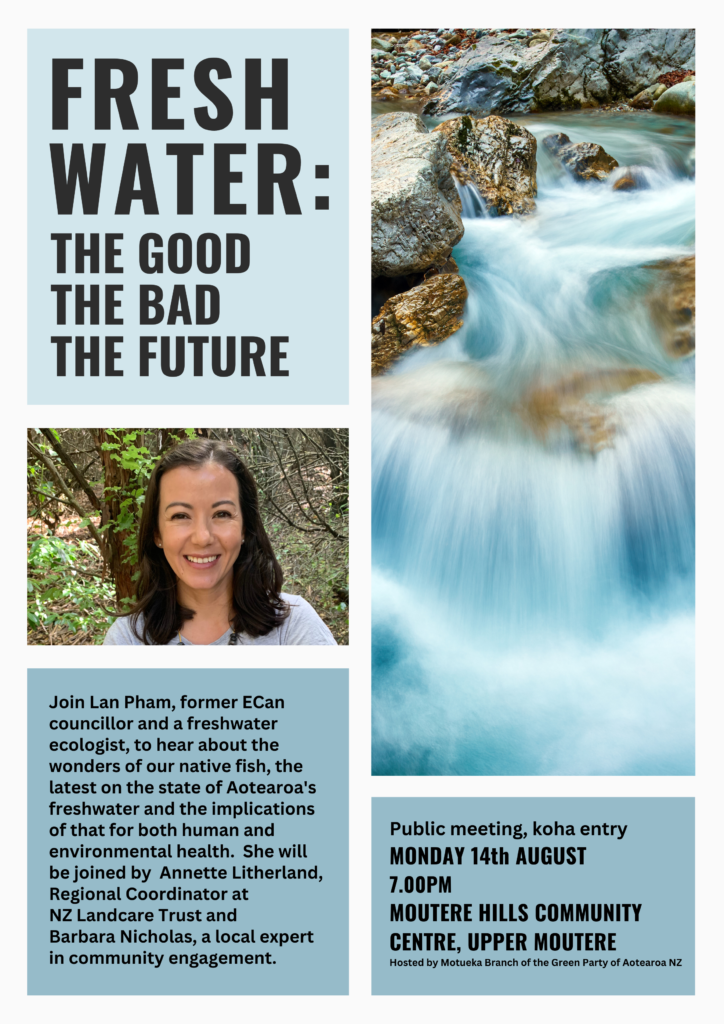 Join Lan Pham (former Environment Canterbury Councillor, Freshwater Ecologist to hear about the wonders of our native fish and the latest on the state of Aoteroa New Zealand's freshwater; the implications for both human health and the health of our environment; and what is happening (or not happening) nationally, internationally and locally to ensure we can have healthy, safe, drinking water and freshwater ecosystems for us, our kids and generations to come.  Lan Pham says "Clean, healthy freshwater is absolutely critical to the health of not only our environment, but ourselves."
The evening will be complemented by a panel with Annette Litherland, Regional Coordinator at NZ Landcare Trust and closely involved in the local Motueka and Moutere Catchment Collectives and Barbara Nicholas, a local expert in community engagement. After a short introduction they will exchange their knowledge and take part in answering questions from the public.  The meeting will be MC-ed by Steve Richard, owner of the Jester House, well known in the area, and an active member of the Moutere Catchment Collective. Although Lan is also a Green Party candidate, this event is a non-political event with our freshwater environment as the theme of the night.
Lan Pham's background is in Freshwater Ecology (MSc) where it was Aotearoa's quirky endangered native fish that first got her involved in tricky intergenerational issues like freshwater pollution and climate change. Over the last 15 years Lan has worked with community groups, schools, farmers, iwi and government agencies across Southland, Otago and Canterbury on grass-roots freshwater restoration projects,  as a freshwater ranger for DoC and as founder and trustee of Working Waters Trust.
Lan has served the last 6 years in Local Government as a Regional Councillor on Environment Canterbury from 2016 – 2022 where she championed action for nature, climate and people. Her initial election campaign for Environment Canterbury in 2016 was launched while on a year-long placement on Raoul Island in the Kermadecs – a five-day, 1000km boat ride away.
Looking at the state of our freshwater environment, Lan says: "Getting ourselves out of this mess is about leaving a better future for our kids and grandkids. We all have a part to play in this. We can all be part of this change through our votes, through using our voice, through taking action."
Related Events