"Rethinking Home" – innovative approaches to transforming housing options in Nelson/Tasman that better respond to our environmental and social needs
August 16 @ 7:30 pm
$10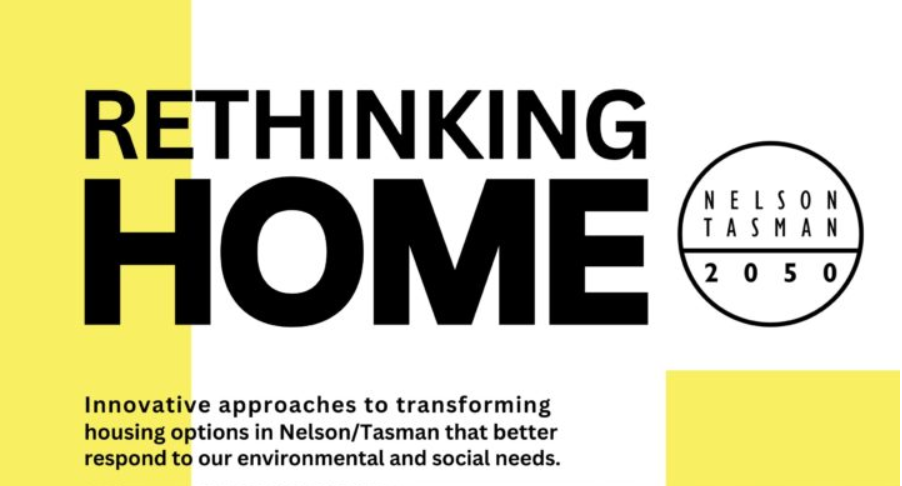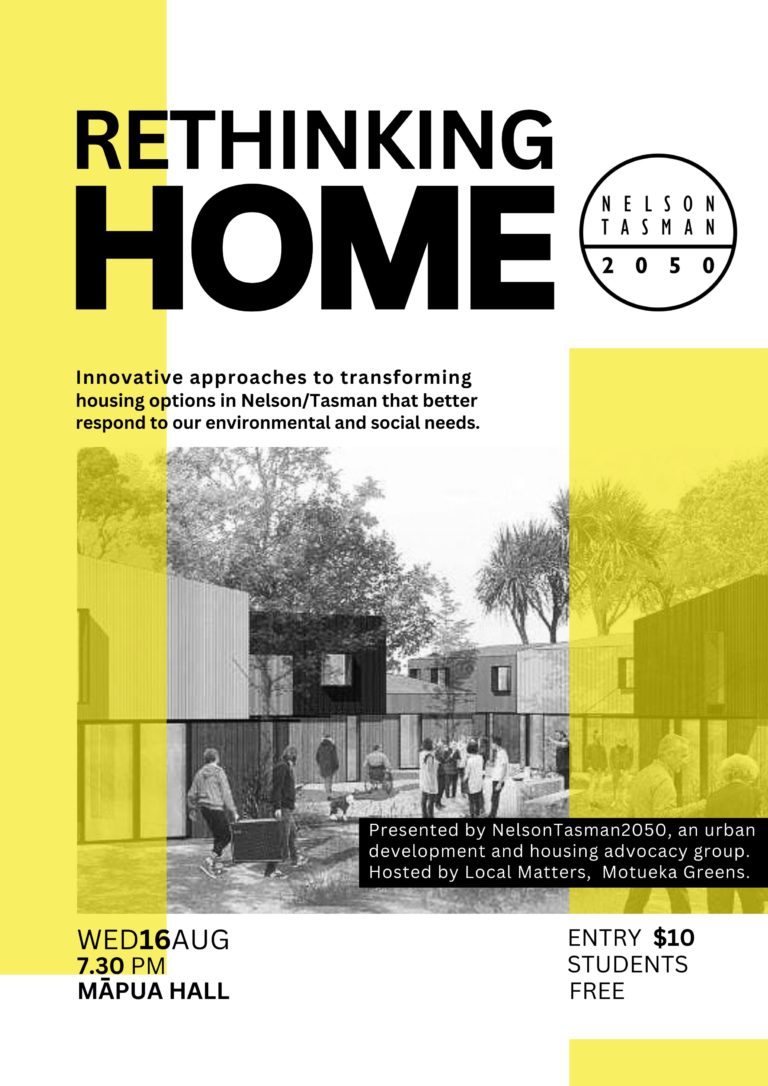 "Rethinking Home" – innovative approaches to transforming housing options in Nelson/Tasman that better respond to our environmental and social needs
You are warmly invited to attend a Local Matters presentation on "Rethinking Home",  which will look at innovative approaches to transforming housing options in Nelson/Tasman that better respond to our environmental and social needs,  on Wednesday 16 August 7:30pm at the Māpua Hall.
Members of NelsonTasman2050, a local Housing and Urban Development Think Tank, will discuss the housing challenges that we face in our region. Our speakers will present initiatives and innovative design approaches that better respond to the region's environmental and social needs.
They will look at the pressures placed on the overburdened housing sector and explore ways that we can build more sustainably, affordably, and thoughtfully within our local communities. Speakers on the night are NelsonTasman2050 members Magdalena Garbarczyk and William Samuels, both architects, and Jan Heijs, a civil engineer.
The Nelson/Tasman region ranks in the top five most expensive in the country for housing affordability. Jan Heijs says 'our region's residential growth has been unequally distributed to fringe suburbs and outlying towns and villages, while living more centrally is out of reach for most'. Willam Samuels adds 'urban intensification has been misguided as uncoordinated backyard infill development. This has resulted in a lack of housing choice, poor environmental qualities, rising costs of living and rising greenhouse gas emissions.'
This trend needs to be re-balanced to enable more affordable housing, reduce our collective carbon footprint and to facilitate quality urban environments with a variety of housing options, enabling walking, cycling and public transport as real mobility choices.
Featuring an overview of the advocacy work that NelsonTasman2050 is undertaking, along with presentations from two local architectural practitioners on their low cost, sustainable designs, this event is designed to generate discussion and spark ideas about what type of housing we want and what is appropriate for our local context.
Related Events