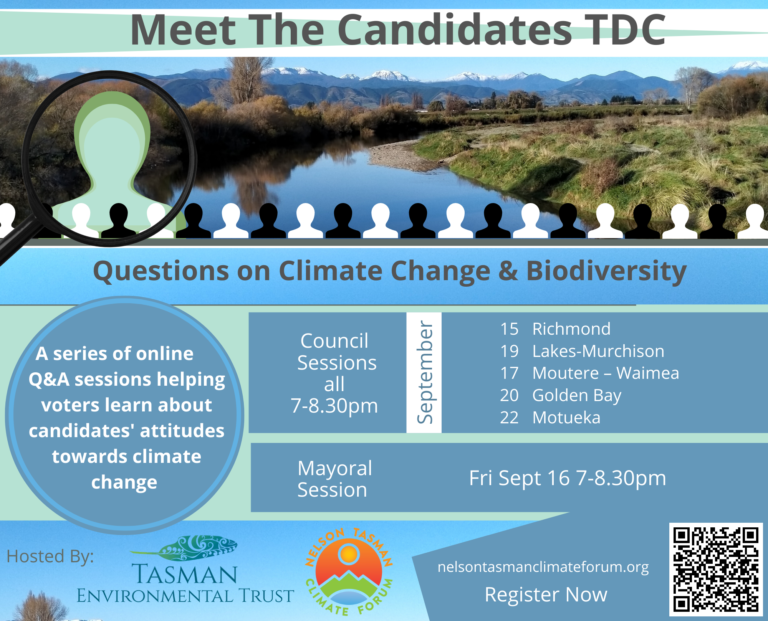 Questions on Climate Change and Biodiversity
Tasman District Council's local elections (held every three years) are fast approaching. Nominations closed on August 12th and election day takes place on October 8th.
The Nelson Tasman Climate Forum and Tasman Environmental Trust are hosting a series of zoom sessions where we will be inviting both mayoral and council candidates to answer questions about the role they intend to play in elevating the climate conversation and advocating for climate conscious policies. The recent weather events have brought home how important it is to have representation at the local government level who understand the causes of climate change, and its effects.
Drawing on a set of pre prepared questions elicited from The Forum, our moderator will challenge each of the candidates on their climate credentials and aspirations. Our hope is that these sessions will give voters a useful overview of their options while highlighting to the candidates that there is a public expectation that climate change should be at the forefront of their thinking and their actions.
If you are interested in climate change mitigation at the local governance level, and want to hear from the candidates on this subject, this event is for you.
The timetable of events is as follows:
All sessions are from 7-8.30pm
Mayoral Session: 16 Sept REGISTER HERE
Council Sessions:
15 Sept Richmond  REGISTER HERE
17 Sept Moutere – Waimea REGISTER HERE
19 Sept  Lakes-Murchison REGISTER HERE
20 Sept Golden Bay REGISTER HERE
22 Sept Motueka REGISTER HERE
There will be updates on FACEBOOK and INSTAGRAM and recordings of the sessions will be available on our YouTube channel.