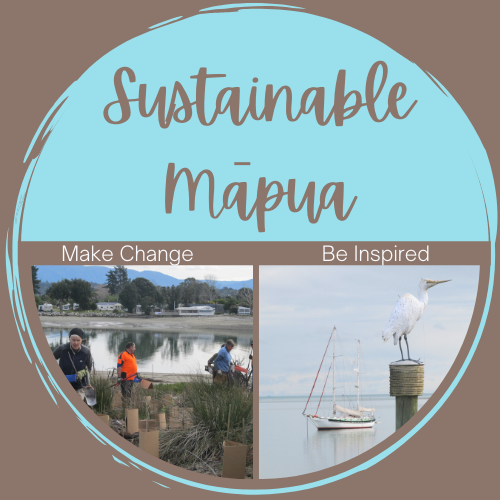 Join us for sustainable Māpua, an event where locals can be inspired by the ways in which they can achieve a more sustainable lifestyle. Hosted by the Nelson Tasman Climate Forum, the event will take place on Saturday 17th September from 10am – 12.30pm in the Māpua community hall. We'll have a variety of service providers on hand to talk you through the steps to achieving and the benefits of living more sustainably:

Waimea Inlet Restoration: Join Kath to hear how trapping and planting by the local community has helped to make the project a success by restoring birdlife to the area. If you are interested in joining the team as a volunteer, this is a great opportunity to express your interest and find out how you can help.

Climate Action Plan: The Nelson Tasman Climate Forum's very own co-chair Joanna Santa Barbara will be on hand to get you started on creating a climate action plan for your household. Joanna will also have copies of 'The Climate Action Book' a handy guide for businesses, organisations, households and individuals that gives useful hints on how to lighten your carbon footprint.

Ride and Share Bus Service: The Nelson Tasman Community Transport Trust  provides affordable community public transport.  Come along to hear about "Willing Wheels" a car on demand service running in Māpua and their coastal bus route  from Motueka to Richmond.

Solar Hot Water: Local business The Alternative Energy Company will explain how new solar thermodynamic water heating technology works  and the benefits of their Eurothane GP PIR insulation

Solar Made Simple: HeapsMOREnergy/ SolarZero are a kiwi firm who want to accelerate New Zealand's transition to be 100% renewable and lower the cost of energy for Kiwis. They'll be available to talk you through the various solar options available to power your home.

Eco-Tourism: Increasingly, tourists are expecting a degree of environmental responsibility from their hosts. Adele and Roger will share and celebrate their  sustainability initiatives at The Gates Accommodation including use of local materials in construction, zero waste practises and approaches to low impact tourism. If you run tourist accommodation and want to appeal to a more eco-conscious clientele base, Roger and Adele's insight will be invaluable to you.

Sustainable Food: Lucy is passionate about this subject. She will be advocating for local fresh produce and highlighting the important role proper food management plays in sustainability.

Tree Planting: Peter from the Tree Crop Association will be explaining how its members plan and protect a diversify of useful trees such as those producing fruit, nuts, livestock fodder, bee forage and other crops

E Bikes: Frank Witowski from Hybrid Bikes will be on hand to answer any of your E-Biking questions. He'll also have a couple of bikes available to take for test rides

Planting a Micro Forest: Colin is the man behind NZ's first ever Miyawaki biochar micro forest. He'll be outlining the Miyawaki method on effective tree planting to created forest cover quickly on degraded land.

Electric Vehicles: The Car Company are experienced in selling second hand electric vehicles (EV's). If you are interested in changing over to an EV, but don't know where to start, it's worth coming down and having a conversation with them. They'll be sharing their advice on EV's and outlining their advantages and limitations.

Repair Station: If you have some toys or small household items that require a bit of TLC, bring them down to the event, where David and his friends are setting up a repair station.

Sing it Loud: Join local choir 'The Singing Sisters' for some musical entertainment at 11.00am

Kids Spot

Tāne's Ark members will be showing their artworks celebrating the local environment and the tree planting work of the school's environment group.

TAMAHA scouts will have a stall selling native tree and tomato seedlings. They'll also be using this opportunity to tell stories of their adventures on the high seas!