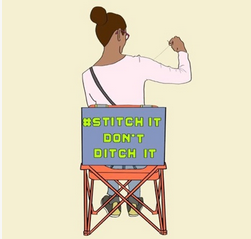 Street Mending – Positive Climate Action EventJoin the street mending event, sit & mend together on Trafalgar Street meeting at Bank Lane.

Encouragement to enter into a contract with the things you purchase, look after & care for them and extend their useful life as long as possible. 
We are wishing to persuade & inspire people of the benefits of mending rather than making them feel defensive about their purchasing habits.
Promoting the repair of clothes as a means to reduce consumption of energy & other resources.
What to bring?
Chair with Chair banner
Make a chair banner with '#stich it don't & hang it from the back of your seat. This could be sewn, painted, hand written, cut from paper, stitched on a garment etc. – whatever you have time for & will enjoy making
Mending project – neat un-cluttered
Simple Mending kit, scissors, pins, sharp needle, blunt needle, fabric scraps
After the happening we will gather for a BYO Picnic on riverbank between Trafalgar & Collingwood Street, weather permitting.
For more information contact Ami
027 3577998, amikgrowingfood@gmail.com
Lookout for our event on Facebook
For more information #stitch-it-don't-ditch-it